Sightseeing in Langkawi
The east coast is fringed by dense mangrove swamps and limestone hills and
it is worth experiencing a river tour topped off by "feeding the eagles".
Scores of red eagles swoop down to claim their prize and it is a sight to behold. Canopy trekking which involves abseiling or rappelling and generally hanging from high branches up in the forest canopy is catching on. And in Pulau Payar Marine Park 30km south of Langkawi, you can dive in gin-blue waters, snorkel
and actually feed sharks – well, okay, baby sharks.
Up in the cool highlands of Mt Gunung Raya smack at the centre of Langkawi, hornbills can be occasionally sighted. Another day excursion is to Pulau Dayang Bunting, the Island of the Pregnant Maiden. It is a 15-minute boat trip from Langkawi. The highlight here is a cave haunted by a fearsome banshee, and
Tasik Dayang Bunting, a freshwater lake that apparently bestows the gift of
children to barren women who drink from it.
For the fabulous views, hitch a ride up the 708m Mt Mat Cincang on the
Langkawi Cable Car from Oriental Village. Or walk up to one of the three
waterfalls – Telaga Tujuh (Seven Wells), Air Terjun Temurun, or Durian Falls
(dry season though, there won't be much water). Budding equestrians and children can trot off horseback through forests and villages.
And golfers can check in at the stunning Datai Bay Golf Club,
Gunung Raya Golf Resort, or the unpretentious home-grown Langkawi Golf Club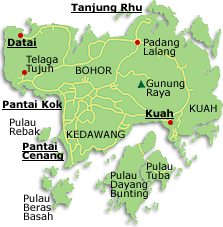 Click on the area headings below to view info & Details
Langkawi Sights & Visits
• Dataran Lang (Eagle Square) • Lagenda Langkawi Park
• Royal Langkawi Yacht Club • Al Hana Mosque
• Padang Matsirat • Batik Art Village • Aquabeat Water Theme Park
• Mahsuri Memorial • Burau Bay • Underwater World •
• Laman Padi • Tengah & Cenang Beach •
• Summer Place • Oriental Village • Cable Car •
• Gunung Mat Cincang • Gondwana Mountain •
• Telaga Tujuh (Seven Wells) • Datai Beach •
• Datai Bay Golf Club • Pantai Tengkorak •
•Ibrahim Hussein Art & Cultural Foundation • Craft Complex •
• Temurun Waterfalls • Langkawi Crocodile Farm • Black Sand Beach •
• Tanjung Rhu• Gua Cerita • Air Hangat • Galeria Perdana •
• Kilim Nature Park • Langkawi Bird Paradise •
• Durian Perangin • Lankawi Crystal • Mahsuri Mausoleum •
• Langkawi Book Village •

Gunung Raya

•

Gunung Raya Golf Club

•

• Snake Sanctuary •
Sights & Visit Rating
Depending on the time you would have on your visit and stay in Langkawi.
This rating provides a guide as to what would be a worthwhile visit and what
could be given a miss.
Visit Rating

Don't go out of your way to visit

It's OK - Visit if you got the time

Good & Definitely worth a visit

Very Good & Not to be missed
This is however is a general opinion and what may be
rated here as a 2 star may be considered a 3 or even a four star to some
and vise versa some may conclude our rating of a 4 star to be that of a 3
or even deserving a 2 star rating.
Ultimately different people have a right to different opinions and conclusions.
Where a local might find it interesting a foreigner would not and what a
foreigner might might interesting a local visitor would not.
Activities
Other than sightseeing, there are scenic beaches such as The Datai Bay,
Tanjung Rhu, Pantai Kok and Pantai Cenang; where beach and water sports activities are available for the energetic - a choice of jet skis; para-sailing or
water skiing; organised island hopping and boats for private charter or fishing trips.
There is also adventure for people who would like to experience
some brilliant sailing and the flora & fauna of Langkawi's
out-lying islands, without too much effort, and in exceptional style.
The location is perfection if you are looking to relax or whether you want
to go out and do things.

•
Introduction
• Legends & Myths
• Kuah Town
• Sights & Visits
•
• Getting There