Langkawi is the largest of around a cluster of 99 islands that form the Langkawi archipelago. Many are uninhabited, little more than rocky outcrops separated by narrow channels with coral reefs,
a diverse marine life and unusual wildlife.
Click on the highlights for more info
---
• Pulau Dayang Bunting • Pulau Beras Basah • Pulau Singa Besar •
Pulau Singa Besar name means "Island of the Big Lion" although physically
there's no resemblance. Located 17km from Kuah, Pulau Singa Besar is
nestled between the smaller island of Pulau Beras Basah to the
west and Pulau Dayang Bunting to the east.
---
• Pulau Payar Marine Park • Pulau Payar • Diving at Pulau Payar •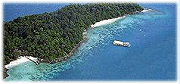 Pulau Payar Marine Park
The Pulau Payar Marine Park includes the islands of Pulau Payar,
Pulau Lembu, Pulau Segantang and Pulau Kaca
Named after Pulau Payar, the biggest island of the group, the marine park
teems with a fascinating diversity of marine life and vegetation.
Pulau Payar
On the island itself there are four small sandy beaches complete with picnic benches and hiking trails so that visitors can explore the island's tropical forests.
his island has the friendliest fish you'd ever see. Feeding fishes and baby sharks that come up to the beaches is a popular attraction here.
Diving at Pulau Payar
Pulau Payar boasts of a spectacularly beautiful dive site at its rocky
southwestern end called "Coral Garden"; where rocky slopes are nearly fully covered with brightly soft coral, and dark green tree like
dandroid and multitudes of sea fans and cone shells thrive
in its deeper waters.
---
• Pulau Tuba • Pulau Rebak • Other Islands •
Pulau Tuba
Undeveloped, this island is still a natural habitat to wildlife, on land,
under the water and in the treetops.
Pulau Rebak
Consisting of two Islands - Pulau Rebak Besar

(Big Rebak Island), the main island and

frequently referred to as Pulau Rebak.

A private island with a quiet ambiance,

a marina and commands a magnificent view of the

Straits of Melaka bordering the Andaman Sea

The other smaller smaller island is called

Pulau Rebak Kecil (Small Rebak Island).
Other Islands
Pulau Bumbon, Pulau Tiloi, Pulau Intan Besar, Pulau Intan Kechil

Note
July to mid-September is the monsoon season and most trips don't operate
due to choppy seas when the weather can make day trips unpleasant


Island Hopping Pulau Payar Other Islands Diving at Pulau Payar