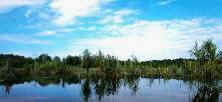 Covering an area of 24,000 hectares, it is one of the two major natural bodies of fresh water in Malaysia. Located in Southwest Pahang, Tasek Bera is situated in the saddle of the main and eastern mountain ranges of Peninsula Malaysia. This natural freshwater lake system is the largest freshwater swamp in Peninsula Malaysia. Extending 35 km long and 20 km wide it drains into the Pahang River via the Bera River, the main artery to the north.
Tasek Bera is characterised by a watery landscape dominated by large grass-like blades of pandunas leaves which line the narrow channels. A variety of ferns, orchids and epiphytes can be seen attached to tree trunks while thorny rattan weave through the undergrowth. Among the fields of metre high reeds and rows of dense foliage found in the open water, dozens of pitcher plants hang in shades of green and red, In the drier areas, lowland rainforest trees and palms add to the diversity of the wetland reserve.

Tasek Bera is an ecosystem which supports not only a diversity of animal and plant life, but sustains the livelihood of the Semelai – the aboriginal people inhabiting the wetlands.
Seasons
Tasek Bera has distinct wet and dry seasons which may determine the best time to visit. The wet months are from April to May and from September to January; while the dry periods are from February to April and June to August. Note however that some sections of the forest trails may not be accessible during the wet months.
Wildlife
Tasek Bera is a sanctuary for more than 200 bird species, 50 mammals and 90 fish species. It is also a habitat providing food and shelter for bird life, including kingfishes, hawks , herons, but overall, water-birds are strangely scarce. Though very difficult to see in the wild, the extended wetland area and its surrounding forests still support tigers, tapirs and elephants, all endangered species. Other wildlife known to exist here include the clouded leopard, wild boars, monkeys, mouse-deer, flying squirrels and flying lemur though the endangered crocodile called the Malayan False Gharial is a rear sight these days.
Fishes
As an important biodiversity reservoir for freshwater fishes, Tasek Bera contains a large number of the country's species, including popular aquarium fish such as harlequins and tiger barbs as well as large predatory catfish and other sport fish.
Activities
Boating and Kayaking

The relative isolation and tranquil surroundings of open water offer opportunities for boating and kayaking. Visitors will enjoy spending a few hours cruising the myriad of river channels and inlets to explore the vegetation and search for wildlife.
Jungle Trekking
Biologically rich in flora and fauna, the lowland rainforests offer ample opportunities
for jungle trekking excursions.
Fishing
With over 15 types of sport fish in the rivers and lake it is a perfect hideout for a bit of fishing. According to the local aborigines, good fishing occurs after heavy rains.
More on Tasek Bera Tasek Bera Map


To all
Travel & Tours
Packages in
Malaysia